Vastly expanding, Barter Rewards, Inc. has merged its Florida branch with Barkett Barter, a trade company in Polk County, Florida. These two companies will be continuing under the Barter Rewards brand and all Barkett Barter members will be transferred to the Barter Rewards member directive. This merge will create new trade options for both parties.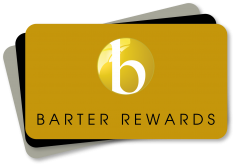 Tait Carson, the owner and founder of Barter Rewards, is overjoyed to begin this collaboration with Mark Barkett, the owner and founder of Barkett Barter. Barkett began his journey with trade companies in Atlanta, Georgia as an active member of Trade Bank and Barter Company. A supporter of the barter concept, Barkett was disappointed after moving to Polk County and realizing a trade company didn't exist in the particular part of Florida.
Barkett is an owner of multiple businesses, including an automotive tint and detailing company in Lakeland, Florida and a commercial window tint company. The latter is responsible for shopping malls, and is the only tinting school on the west coast backed by manufacturers. Before these, Barkett owned various companies such as Sunglass Hut, clothing stores, eight detail and window shops, and was also a police officer.
This previous business experience, and the desire for a reliable barter company in his area, drove Barkett to found his own trade exchange company, Barkett Barter. Barkett Barter currently boasts over 40 members solely in Polk County, and stated he is adamant about weeding out his members to ensure he recruits business owners that are continuing to utilize the system.
Barkett has a unique approach since he was originally a client of a trade network. He stated: "beginning as a member, I have experience with the process and I know it works. I used to use it for everything from hard goods to restaurants to boating. I spent over 5 years in 2 networks before opening my own."
Carson and Barkett realized they shared the same vision. Both founders are hoping to bridge the gap between Tampa and Orlando by expanding in Polk County. More members offer more opportunities to save money and Barkett stated: "It's for the members, not for us." Expanding with Barter Rewards, Barkett's members will now have an active Account Manager to further tend to their clients, and will bring the current member count of Barter Rewards to over 1280.